Mike Hemingway Vehicle Preparation Services
With over 20 years experience in the world of Land Rovers Mike is now established in supplying & fitting aftermarket accessories and performance enhancement products. Whether you want a service, pre- mot check or to improve the performance, versatility or simply the looks of any vehicle in the Land Rover range just contact me . From a simple Gear Knob or Snorkel through to fully prepared expedition or Competition motor Mike is your man. Based in Harrogate, North Yorkshire, but regularly in Halifax,Bradford,Leeds and Ripon. Being mobile means he can come to your house to carry out any repairs, or sort that small but annoying little job, other garages won't touch.
Contact Mike on 07703257482
mike.hemingway@ntlworld.com
Expedition Motors
This 110 Defender is fully loaded with every extra you can imagine including the kitchen sink! The top of the Defender rises to provide a large sleeping area thus enabling the rest of the load area to house all your gear. Built into the back door is a gas cooker, Fresh water storage tanks are tucked away under the wheel arches to provide drinking water & water for the Shower! Additional storage space is provided in the form of compartments cut into the rear tub wing sides. On the roof is a large solar panel to provide charge for the large batteries that run through a converter to provide 240Volts for all the electrical gadgets fitted/required. An air con compressor has been modified to supply air to a storage vessel and can be use to re-inflate tyres or run air tools at a pressure of 100psi. This is just a small number of additions to this motor making it fit for some serious expedition!
Light modifications for Green Laning expeditions have been made to the two Discoverys seen in the picture. These consist of additional/reinforced recovery points, up-graded suspension, mud tyres & storage boxes.
Accessories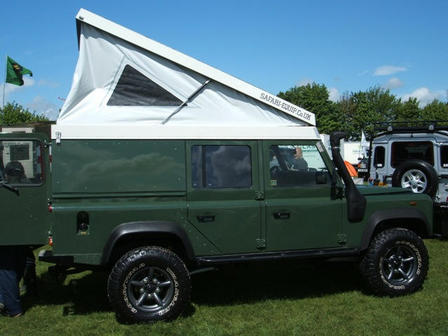 Another fully loaded 'POP TOP' 110 ready to take on the world!
This Defender benefits from a raised air intake/snorkel & new ZU alloy wheels!
This 90 has had a full rebuild down to every last nut & bolt! It had its origanal chassis galvanized, 2" suspension lift, castor corrected radius arms, adjustable panard rod, Discovery 2 (double UJ) prop shafts, Roll cage + much more!
Competition Vehicles
Slim's TOMCAT based racer!
Graham's 2.8ltr TDI challenge IBEX